HOW CAN WE TELL A MOOSE AND A REINDEER APART?
Both the moose and the deer are species of the deer. Both are hardy animals that are capable of surviving the sub-arctic temperatures of the north. Both of these animals are iconic symbols of the northern wildlife.
But there are obvious differences too. The moose and the Reindeer each have varying behaviors, dietary practices and preferences, and physical traits.
Listed below are some of the key differences between these two creatures.
THE KEY DIFFERENCES BETWEEN A MOOSE AND AN REINDEER
1. HABITAT
The moose ( Alces alces ) is endemic to the taiga and sub-arctic forests of the Northern Hemisphere. They are found in Russia, Canada, the Scandinavian and Kola Peninsulas, and New England in the United States. They generally remain within a small range of territory, somewhere between deep snow and areas with little snow. They rarely leave areas with ample snow because these offer considerable protection from wandering predators, such as packs of wolves.
Greenland, Alaska, and Canada. The Reindeer ( Rangifer tarandus ) is found in the tundras and taigas in Siberia, Finland, Norway and Sweden. In the past, populations of reindeers were once common in regions as far and diverse as northern China, Mongolia, and Russia. They were also once frequent in Ireland and Scotland.
2. SIZE
The moose is the largest member of the deer family. A mature bull can grow to an average height of 6.5 feet from the hooves to the shoulders. This measurement does not include the antlers, which can also be around 5 to 6 feet in size and around 40 pounds in weight. A fully grown moose can weigh approximately 1200 pounds. A moose sustains that colossal size by feeding a lot. Its sheer size and bulk enable it to survive in the cold climate of its natural habitat and discourages most of its predators.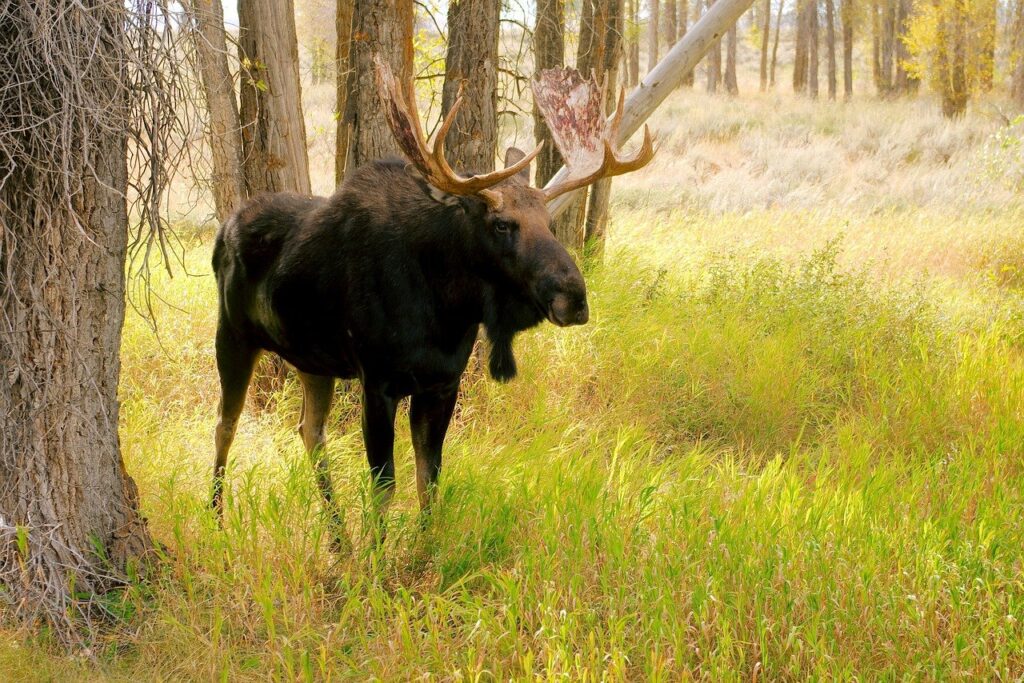 Measured from hooves to the shoulder, a fully grown male reindeer is around 4 feet tall and weighs approximately 550 pounds. Reindeer antlers grow to about 4.25 feet and weigh approximately 33 pounds. Like the moose, reindeers are cold-adapted. Their bulk provides the needed insulation and internal heat for the Reindeer to thrive in sub-arctic environments.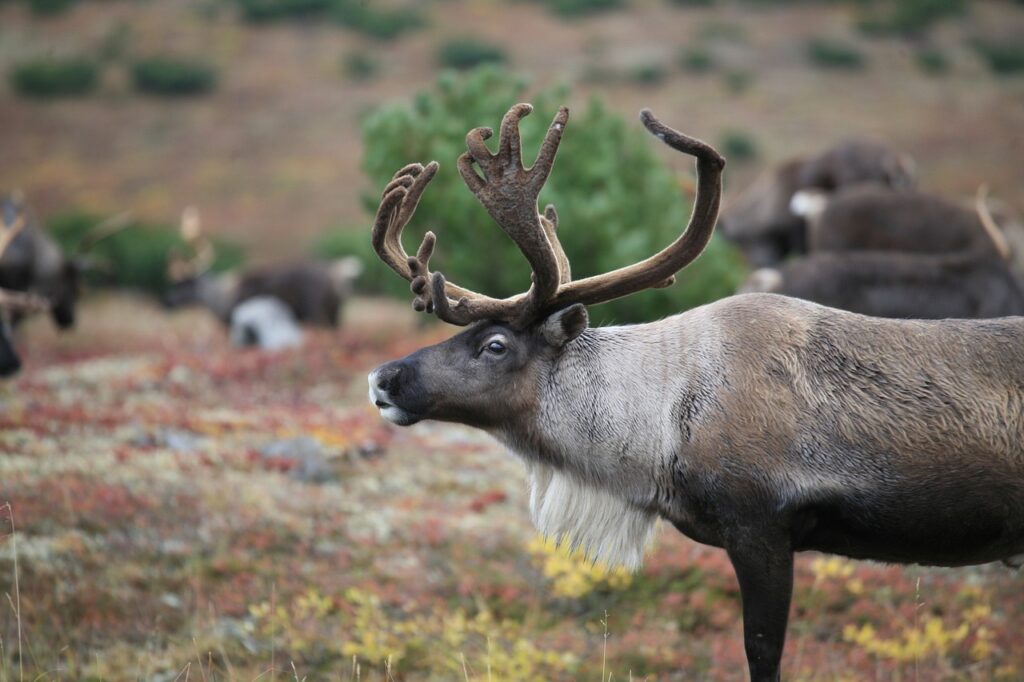 3 . ANTLERS
Aside from its massive size, a moose can be distinguished by the unique shape of its antlers. The shape of a moose bull's antlers resembles that of an open human hand. Broad beams stretch from each side of the moose's head and then branch in the area near the middle of the head and skull. The antler then branches out into protrusions that look like short fingers. Depending on the species, the appearance of the antlers may vary a bit. A moose usually sheds its antlers in the winter after mating season and regrows a new set in spring. New antlers grow to full size in around four months. With some rare exceptions, a moose cow does not grow antlers.
Reindeers are unique among all deer in that both the male and the female grow antlers. The antlers of the Reindeer are the second largest, after those of the moose. Unlike that of the moose, reindeer antlers are compact, dense, and tough since these are used extensively in fending off rivals. Males shed their antlers during winter and fully regrow a new rack in the summer. A unique trait in reindeers is that their most recent racks of antlers are generally bigger than their previous ones.
4. CONSERVATION STATUS
The moose is classified as a threatened species, particularly in Canada. Deforestation and habitat loss due to human encroachment have a considerable impact on the population of the moose. This is aggravated because the moose tends to live in a very small and very specific locale under specific climate conditions and forest cover.
Although reindeers are not yet on the endangered list, their population is radically affected by climate change. The continuous melting of the polar caps and the warming of regions that were once strictly supported arctic and sub-arctic ecosystems have impacted the natural state of reindeers. In the past, wild reindeers were found in large areas in the northern regions of Asia, in Russia, and even in the United States. But domestication and hunting once dwindled their numbers.
5. DIET
Reindeers are pure herbivores. Their common dietary preferences are grass, leaves, moss, lichen, ferns, fungi. And low herbs. They will eat around 8 kilos of plants per day to build mass against the cold. When snow covers the ground in winter, reindeers will dig into the snow with the antlers to subsist on lichens.
Just like Reindeer, the moose are also herbivores. But because of their stature, they usually find it physically difficult to reach down and eat grass. Instead, they will feed on barks, twigs, and leaves. They will strip off the bark from aspens and willows and munch on them. Occasionally, they will supplement their diet with aquatic vegetation.
6. BEHAVIOR
The moose is a solitary animal. There are only two situations where a moose seeks the company of another. The first is during mating season. The second one is when a calf stays with the cow for about a year. But when it reaches maturity, a moose is solitary for most of its life. Due to its solitary nature, a moose is very territorial. It will get provoked easily and charge. There are cases where the moose attacks humans who stumble on their feeding grounds.
In contrast, Reindeer are social creatures. Reindeers tend to roam in large herds where they mingle with several adult males, females, and offspring. Reindeer herds have little to fear from their natural predators, such as wolves. When they act as a herd, they can easily repel threats.
7. ADAPTABILITY TO THE COLD CLIMATE
Reindeers are well-suited to thrive in cold climates. They have a thick and insulated coat. Their fur consists of tapered hairs that press down and tight against the body. This allows Reindeer to keep heat more efficiently and effectively. Even when they wade or swim, their fur provides sufficient protection. In addition, the hooves of the Reindeer are large enough to provide traction when they tread on deep snow. They also have fur-covered footpads that allow them to navigate the terrain conditions in the taigas and tundras where they live.
The moose's fur is similar to that of the Reindeer in terms of its insulation and protection. The moose is also tall enough so that the snow on the ground does not touch its vulnerable belly. The moose is also equipped with powerful legs and hardy hooves suited for snow-covered terrain. When necessary, a moose can rely on its powerful legs to allow it to swim.
SOME QUESTIONS ABOUT MOOSE AND REINDEER
ARE THE MOOSE AND THE REINDEER RELATED?
Yes. They are both members of the Cervidae family. They are both related to the red deer, the fallow deer, the muntjac, and the roe deer.
IS THE MOOSE AGGRESSIVE ENOUGH TO ATTACK HUMANS?
A moose is normally not aggressive. But it will charge at people, at dogs, and even cars when they feel harassed. A hungry moose is not to be trifled with.
ARE THERE DOMESTICATED MOOSE?
There are records of moose being domesticated in Russia to serve as cavalry mounts, But in general, moose are seldom domesticated because there is considerable cost in maintaining them. Moose are such picky eaters that they cannot simply be forced to adapt to the same subsistence as cattle.
WHAT IS ANOTHER NAME FOR MOOSE?
A moose is also called an "elk."
ARE REINDEER AGGRESSIVE ENOUGH TO ATTACK HUMANS?
Generally, no. Even wild Reindeer can live comfortably among human populations. They are not known to charge humans under normal circumstances. They are not aggressive by nature. But during rut season, it is a bad idea to disturb reindeers. This is the time of the year when they can become indiscriminately aggressive.
ARE REINDEER DOMESTICATED?
Yes. They are the only type of deer that has been extensively domesticated to serve as beasts of burden and as sources of milk, hide, and fur. Deer meat, in general, is called "venison."
WHAT IS ANOTHER NAME FOR REINDEER?
In North America, a reindeer is called a "caribou."
CAN A MOOSE AND A REINDEER INTERBREED?
Although they may share the same habitat at times, they generally do not mate. Their social behaviors, for one, prevent natural interbreeding between the two. A moose is fiercely solitary, while a reindeer is herd-disposed.
DO REINDEERS LIVE LONG?
In the wild, a reindeer will live for about 15 years. In captivity, their life expectancy is approximately 20 years.
DO MOOSE LIVE LONG?
A moose in the wild has a relatively short life expectancy of 12 years. This is mostly because it has natural predators, the foremost of which is the wolf. In captivity, a moose can be expected to live for 20 years.